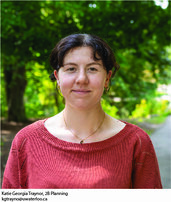 Program & Year of Study
2B, Planning
Top three platform points
- Sincere interest in affordable housing, the international student experience, mental health, creating safe inclusive environments.
- Strive to improve current education system - working towards high-quality affordable post-secondary education
- maintain links of community groups - represent issues on a broad spectrum
Reason why someone should vote for you in 100 words or less
My goals and aspirations involve creating a positive impact on student's life through advocacy, and striving to achieve excellence in every aspect of my work. I'm passionate about profiles like housing, the international student experience, and mental health.
I want to assist the president of WUSA to my fullest capacity, to achieve their goals in advocating for issues student face at the university of waterloo. I am able to maintain a level of professionalism and dedication in my work and personal life and can help ensure students not only receive a high-quality education but also plan for future student needs.
Links to any website, social media accounts and/or email address
Instagram: kate.traynor06
Facebook: https://www.facebook.com/kate.traynor.589
Linkedin: https://www.linkedin.com/in/katie-georgia-traynor/
Uwaterloo email: kgtrayno@uwaterloo.ca